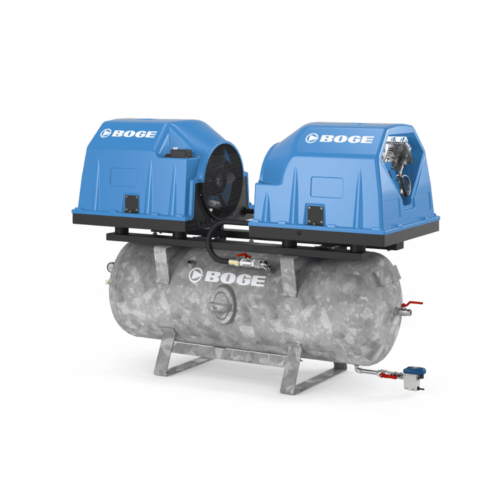 BOGE PO LTR Piston Compressor (Up to 5.5kW)
BOGE Piston Compressor PO LTR up to 5.5 kW offers high performance, improved free air delivery and long service life. The days of big and immobile piston air compressors are over, the PO LTR's lightweight design makes it ideal for flexible use.
Overview
DOWNLOAD THE BOGE PISTON COMPRESSOR PO LTR UP TO 5.5 KW PDF
The completely oil-free piston air compressors of the new BOGE Piston Compressor PO LTR up to 5.5 kW produces high-quality compressed air for even the most sensitive applications.
The operation is wear-resistant and features an extremely compact design, with the closed hood concept combining industrial safety and environmental protection.
The BOGE Piston Compressor PO LTR up to 5.5 kW meets the requirements of the RoHS Directive (2002/95/EC) – proof of the innovative quality of BOGE. Double unit, mounted on a compressed air receiver.
FEATURES AND BENEFITS
Oil-free compressed air
Directly coupled
With receiver
Designed for 100% duty cycle
Available as twin unit
Maximum efficiency
ENHANCED DURABILITY
The low piston speed of 3 m/sec, minimises vibrations and keeps the components at a low temperature.
This reduces wear, which significantly extends the life of pistons and cylinders.
COMPACT DESIGN
The slim compressor design results in a smaller footprint.
For the first time, it is also possible to offer an oil-free solution for twin units on top of a compressed air receiver, or compressed air centres with a receiver and a dryer!
INTERMITTENT OR CONTINUOUS OPERATION
Compressed air users requiring frequent intermittent use are not best served by Screw Compressors.
BOGE Piston Compressor PO LTR up to 5.5 kW, however, can be switched on and off repeatedly without any problem, and there is no restriction on the allowable on-time.
100 PERCENT OIL-FREE
Preventing compressed air from becoming contaminated with oil is only possible if the system is totally free of oil.
The BOGE Piston Compressor PO LTR up to 5.5 kW works on a completely oil-free principle and so is particularly suitable for uses such as in paint shops and food processing.
For environmentally friendly compressed air, we use specially coated pistons and piston rings, specially developed cylinder liners, and hermetically sealed bearings.
FINELY TUNED CRANKSHAFT
Vibrations can be greatly reduced if each individual crankshaft is meticulously balanced.
The use of anti-vibration mounts to decouple components stops vibrations from passing into the floor mounts.
DEAD SPACE PERFECTED
To keep dead space in the cylinder to a minimum, manufacturing tolerances are minimised, valves and valve pockets have been fine-tuned, and the distance rings are individually type adjusted.
Low flow resistances significantly improve the volumetric efficiency – all a matter of IQ orientation.
Speak to us today
We believe that your success is our success. That is why we provide top-notch solutions and support to businesses using our quality products, whether through purchase or hire.