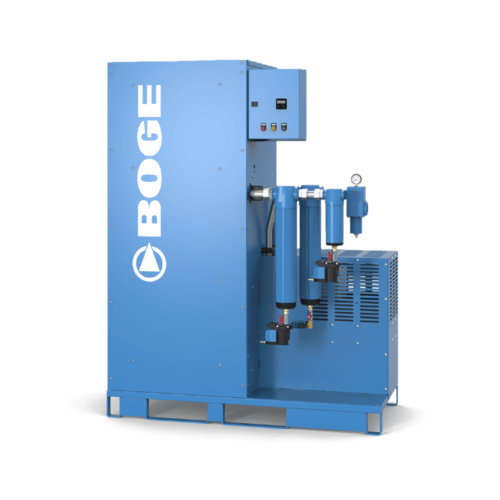 Catalytic Converters For Air Compressors
You might ask what does a catalytic converter do? In an air compressor system, the catalytic converter works to convert oil and other substances such as hydrocarbons into compressed air and CO2. The end result is oil-free condensate and air quality!
Catalytic Converters
Catalytic converters play an integral role in all air compressor systems. These devices help to convert oil, hydrocarbons, and other substances into compressed air and carbon dioxide. The end result is oil-free condensate and greatly improved air quality.
Catalytic converters offer numerous advantages over oil compressors, with the quality of the compressed air not dependent on the hydrocarbon content of the surrounding air. You can find three way catalytic converters in most cars on the roads today.
At Cleveland Compressors, our catalytic converter products are designed for industrial applications. Our products are not dependent on the temperature and humidity of reprocessed compressed air, which leads to much cleaner air and greatly improved results. We are the leading Australian provider of air compressors, so you can rely on industry-leading products and friendly expert advice.
If you're looking for a catalytic converter cleaner for your business, please contact Cleveland Compressors today.
Cleveland Compressed Air Services
Our Quality Service Guarantee
At Cleveland Compressed Air Services, we pride ourselves on providing our Australian clients with the best products and services in the compressed air industry. We offer customised solutions, high-quality products and a friendly company culture built on core values such as integrity, social responsibility and accountability.
As one of Australia's leading catalytic converter product providers, we recognise the importance of providing high-quality air applications and machinery and professional and timely support. If you're interested in learning more about our range of catalytic converters, please call us today on (08) 9542 3669, email us at info@ccair.net.au or contact us online.
Catalytic Converters
Frequently Asked Questions
A catalytic converter is a special exhaust system designed to control emissions and improve air quality. Mostly known for its use in automobiles, this device also plays a central role in air compressor systems.
Catalytic converters function as an exhaust emission control device. They perform a combustion process to convert toxic exhaust gases and pollutants from internal combustion engines - such as nitrogen oxides, carbon monoxide, and more - into much less toxic pollutants such as carbon dioxide.
Some of the converters that perform this are known as an oxidation catalyst and a reduction catalyst, although this can differ depending on a number of factors - such as petrol or diesel engines.
When used with air compressors, they help to remove contaminants and improve overall air condition within the exhaust pipe of a fuel tank.
When selecting a catalytic converter for your air compressor system, it's important to think about potential contaminants and air purity levels based on the application in question. While no single process or product is capable of delivering high-quality compressed air, catalytic converters play a central role in the purifying process.
Air compressors draw in lots of atmospheric air, with contaminants needing to be continuously filtered and removed. Different environments have different contaminants, from water and oil to dirt, microorganisms, and rust.
When used with an air compressor system, catalytic converters need to be cleaned on a regular basis. Whether you're working in the pharmaceutical, food and beverage, biotechnology, or electronics industries, stringent air quality standards need to be met through regular cleaning.
The cleaning frequency is dependent on the product in question, with annual maintenance or more recommended by most manufacturers. Unlike catalytic converters in vehicles, these industrial designs are made to be cleaned.
When installed in an industrial setting, a clean catalytic converter offers a wide range of performance and safety benefits. This device helps to eliminate oil-free compressed air, and it also assists in minimising bacteria, fungus, and microbial content in compressed air. If your business has sensitive production or processing demands, a catalytic converter is an essential addition to your facility.
Cleveland Compressors have an extensive range of reliable, high-performing machines for industrial applications from some of Australia's leading brands. No matter your industry, Cleveland Compressors is bound to have the right air compressor equipment to suit your individual air demand needs. If you want to improve your manufacturing and production processes and incredible energy savings, all at the lowest cost, contact Australia's most reliable industrial solutions provider, Cleveland Compressed Air Services by calling (08) 9542 3669, emailing info@ccair.net.au or contacting us online today!
Speak to us today
We believe that your success is our success. That is why we provide top-notch solutions and support to businesses using our quality products, whether through purchase or hire.