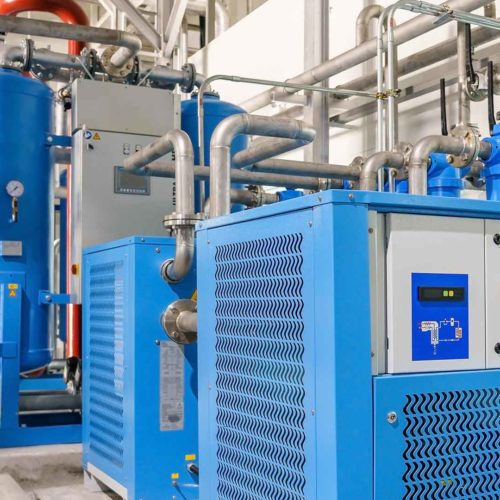 Our Membrane Air Dryers
A membrane air dryer can remove both contaminants and water vapour. Membrane dryers are highlight efficient and require no external power, making them a perfect solution for lower volume air flows. At Cleveland Compressed Air Services, we'll help you find the right membrane air dryer solution for you.
Cleveland Compressed Air Services
Our Quality Service Guarantee
At Cleveland Compressed Air Services, we pride ourselves on providing our Australian clients with the best products and services in the compressed air industry. We offer customised solutions, high-quality products and a friendly company culture built on core values such as integrity, social responsibility and accountability.
As one of Australia's leading compressed membrane air dryer providers, we recognise the importance of providing high-quality air applications and machinery and professional and timely support. If you're interested in learning more about our range of membrane air dryers, please call us today on (08) 9542 3669, email us at info@ccair.net.au or contact us online.
Membrane Air Dryers
Frequently Asked Questions
A membrane air dryer uses a filtration system to remove contaminants and water from compressed air. This process of separating liquid from the vapour is known as "vapour recompression". Membrane air dryers work by drawing in moist, warm, and contaminated air that passes over an absorbent material. The membranes then allow for the separation of heat and moisture from the gas stream resulting in drier, cleaner and more pressurised gas being delivered to downstream equipment such as air filters or turbines.
Membrane air dryers can be used for various industrial processes such as food dehydration or chemical production.  They provide a reliable, energy-efficient and space-saving alternative to some other air dryer types. This type of air dryer is often found in pharmaceutical plants, paper mills, and textile factories.
A compressed air dryer is a machine built to significantly reduce or remove moisture and water vapour that is inherently present in compressed air. Water vapour needs to be reduced or eliminated as once the moisture in the compressed air reaches the dew point (under the right conditions), it can condense into a harmful fluid.
The effects of liquid or water on the parts of refrigerated compressed air dryers can be corrosive, damaging and expensive. If the condensate is left to accumulate inside the compressor unit, it could slowly dry into the metal surfaces of the different moisture-sensitive motor components, leading to rusting. In turn, the compressor could start to drag, malfunction and eventually overheat due to corrosion.
This is why compressed air dryers are used with air compressors. Doing so prevents condensation that could affect your machines, tools, piping and product quality and creates a safer workplace for your employees.
When choosing your air dryer, it is important to consider factors such as:
The maximum pressure of your air compressor
The maximum airflow rate of your air compressor
The maximum temperature of your air compressor
Your budget
The nature of your work
If you're unsure which air dryer is most suitable for your needs, our team is on hand to help you choose the perfect one.
Compressed air dryers are intended to be used in tandem with air compressors. They are often used in applications where water vapour can damage machinery and equipment. A compressed air dryer can be used in various situations, including medical applications, food and beverage industries, construction and more. At Cleveland Compressed Air Services, our machines are available in a wide range of sizes and configurations to suit virtually every application requirement.
We are proud to offer a wide range of compressor air dryers suitable for a variety of applications and industries. All of our air dryers offer benefits such as:
Competitive upfront costs
Minimal maintenance costs
24/7 emergency maintenance services
Durable and effective operation
High energy-efficiency levels
And more
Pressure dew point is the temperature at which water vapour in the air becomes saturated with water and condenses to form liquid dew. The higher the dew point, the more moisture there is in the air. It is a common measurement to assess how much moisture will be present in an environment over time.
Flow rate is the amount of fluid that passes through a given point at a specific time. Technically, it's the volumetric airflow rate, which means how much volume flows past a point per unit time. This can be measured in cubic feet per minute (CFM). The more CFMs, the more air your unit will disperse throughout your space.
Cleveland Compressors have an extensive range of reliable, high-performing machines for industrial applications from some of Australia's leading brands. No matter your industry, Cleveland Compressors is bound to have the right air compressor equipment to suit your individual air demand needs. If you want to improve your manufacturing and production processes and incredible energy savings, all at the lowest cost, contact Australia's most reliable industrial solutions provider, Cleveland Compressed Air Services by calling (08) 9542 3669, emailing info@ccair.net.au or contacting us online today!
Speak to us today
We believe that your success is our success. That is why we provide top-notch solutions and support to businesses using our quality products, whether through purchase or hire.