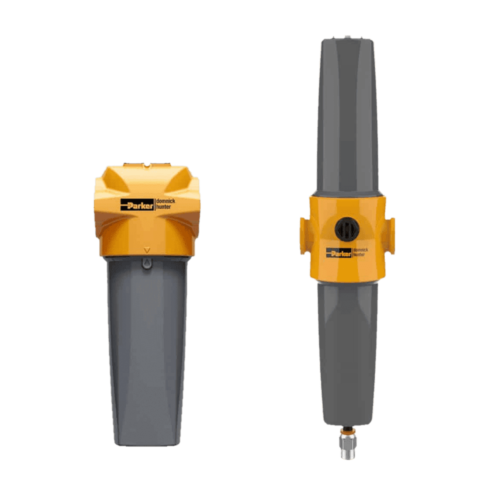 Parker Domnick Hunter Oil-X 'Point Of Use' Oil Vapour Removal Filters
Activated carbon filters for the removal of oil vapour and hydrocarbon odours, providing a maximum remaining oil content of <0.003mg/m³ (<0.003ppm) @ 21°C (70°F).
Overview
Oil vapour is oil in a gaseous form and will pass straight through coalescing filters which are designed to remove liquid oil and oil aerosols, Parker recommends activated carbon adsorption filter technology for the removal of oil vapour.
OIL-X 'point of use' oil vapour removal filters are available in two options: the Grade ACS single-stage adsorption filter and Grade AC double-stage filter – Grade AC consists of both coalescing and adsorption filter elements combined into one housing. OIL-X Grades ACS and AC are used for smaller flow rate applications and applications where more frequent element changes can be tolerated.
FEATURES AND BENEFITS
High efficiency 'point of use' filters
Protects downstream equipment and processes
Provides high quality, clean, oil-free compressed air to international standards
Reduced cost of ownership
Enhanced health and safety
Suitable for all types of air compressor and compatible with all compressor lubricants
Manufactured in accordance with ISO9001
Speak to us today
We believe that your success is our success. That is why we provide top-notch solutions and support to businesses using our quality products, whether through purchase or hire.