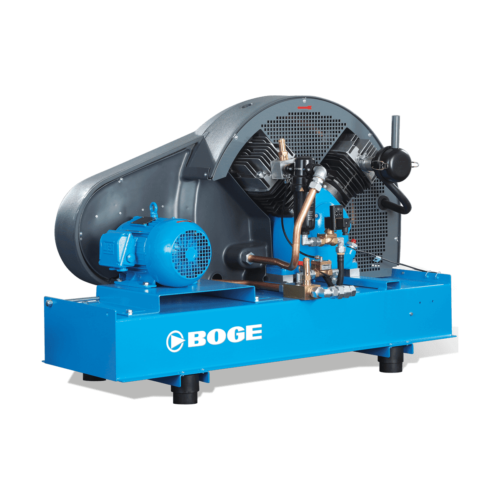 BOGE SRH Piston Compressor (Up to 11kW)
The BOGE Piston Compressor SRH up to 11 kW is the perfect solution for applications that require high pressures. BOGE piston air compressors' effectiveness has been proven time and again, making them a reliable choice for those who need a dependable compressed air supply.
Overview
DOWNLOAD THE BOGE PISTON COMPRESSOR SRH UP TO 11 KW PDF
The BOGE Piston Compressor SRH up to 11 kW delivers pressures of up to 35 bar safely and efficiently.
The effectiveness of these air compressors is proven and guarantees absolutely reliable compressed air supply for applications that rely on high pressures.
FEATURES AND BENEFITS
Oil-lubricated piston compressor
Direct-coupled
Silenced
Designed for 100% duty cycle
High pressures
Effective free air delivery: 185 – 1913 l/min, 6.5 – 68 cfm
Maximum pressure: 10 – 35 bar, 150 – 515 psig
Rated power: 1.5 – 15 kW, 2 – 20 HP
RELIABILITY
BOGE piston compressors work according to a proven principle that is characterised by reliability, efficiency and robustness.
Designed for long-term performance, the BOGE Piston Compressor SRH up to 11 kW ensures maximum operating reliability even in the most arduous conditions.
HIGH QUALITY
Quality pays off: Since only top-quality components are used in the manufacture of BOGE Piston Compressor SRH up to 11 kW you will benefit from long service life and low maintenance costs – advantages you will enjoy indefinitely.
BASE AND PEAK LOAD OPERATION
The BOGE Piston Compressor SRH up to 11 kW can be used intermittently as base or peak load compressors, thus optimising compressed air supply with maximum efficiency.
FLEXIBILITY
The modular design concept allows you to individually choose the type of compressor and the size of the receiver you require to meet your operating requirements.
Speak to us today
We believe that your success is our success. That is why we provide top-notch solutions and support to businesses using our quality products, whether through purchase or hire.