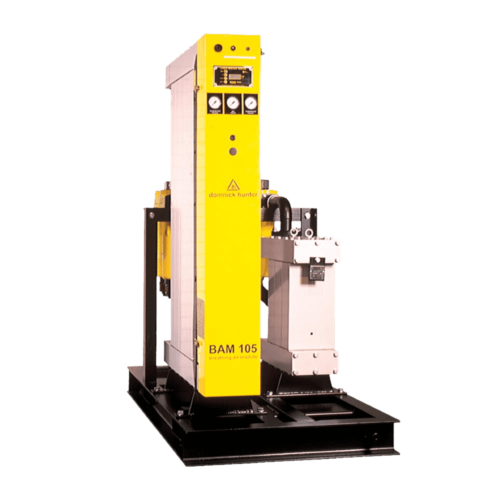 Parker Domnick Hunter BAM Breathing Air Purifier
Parker Domnick Hunter's BAM Breathing Air Purifier System removes bulk water, particles and oil.
Overview
Parker Domnick Hunter's BAM Breathing Air Purifier System consists of several stages of contaminant removal. Inlet filtration combines to remove bulk water, particles and oil. The use of adsorption materials, namely activated desiccant and carbon removes water vapour and oil vapour/odours respectively. The desiccant material is contained in a pressure swing adsorption dryer that delivers a constant pressure dewpoint of -40°F (-40°C). Downstream of the desiccant dryer, a catalyst converts carbon monoxide to carbon dioxide by catalytic conversion. A final dust filter captures any particulates carried over from the adsorption materials.
The BAM Breathing Air Purifier System removes the following contaminants: solid particles, oil mists, oil vapours, odours and fumes, water mists, water vapour, carbon monoxide and carbon dioxide.
HOSPITAL AND MEDICAL AIR QUALITY
A medical air supply is a vital part of every hospital infrastructure and is one of the few medicines that is manufactured on-site. Parker Domnick Hunter BA-DME and BAM Breathing Air Purifier Systems provide integrated filtration and adsorption stages to deliver the air quality required for medical applications. Parker Domnick Hunter Breathing Air Systems have been tested to the European Pharmacopoeia Medical Air Standard, which is more stringent than OSHA Grade D standards.
FEATURES AND BENEFITS
6 purification stages
Use with any compressed air supply
Integrated CO Monitor
Electrical supply required
Energy management system (Dewpoint Dependent Switching (DDS)) – Optional
Exceeds international breathing air standards
Speak to us today
We believe that your success is our success. That is why we provide top-notch solutions and support to businesses using our quality products, whether through purchase or hire.