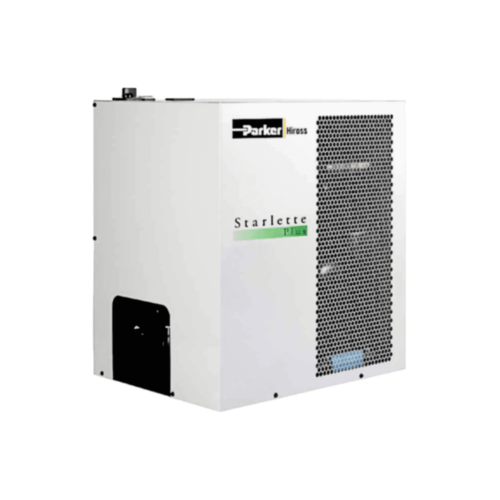 Parker Hiross Starlette Plus Refrigerated Air Dryer
Parker Hiross Starlette Plus refrigerated air dryers are the perfect solution for the efficient removal of water vapour from compressed air.
Overview
The application of high-quality air ensures continuity and reliability of industrial applications, the highest quality standards for finished products and the optimisation of production costs.
Parker Hiross offers a range of refrigerated air drying solutions using advanced refrigeration technology.
Starlette Plus is Parker Hiross' answer to the specific needs of the industrial user.
Starlette Plus safeguards continuous performance and superior efficiency in every industrial compressed air application. It can easily be adapted to suit all working conditions, maintaining reliable dewpoint control and the lowest possible pressure drops and operating costs.
With its state-of-the-art PlusPack heat exchangers (patent pending) and the most compact dimensions of any system in its class, Starlette Plus is the superior choice for any compressed air treatment application.
FEATURES
Extremely compact
Low operating costs
Environmentally friendly
High operating limits
Reliable air-tight piston compressors which do not require preheating
Simple and secure refrigeration circuits which do not require adjustment during operation and undergo vigorous quality testing in production
Large adjustable condenser and fan compartments to guarantee optimum performance even in extreme conditions
Security protection in the refrigeration circuit, increasing reliability and safeguarding the air dryer
Simple disassembly, with easy access to the internal components for efficient maintenance
Drain positioned in a niche, allowing easy access without the need to remove the top panel
High-pressure version available
Speak to us today
We believe that your success is our success. That is why we provide top-notch solutions and support to businesses using our quality products, whether through purchase or hire.