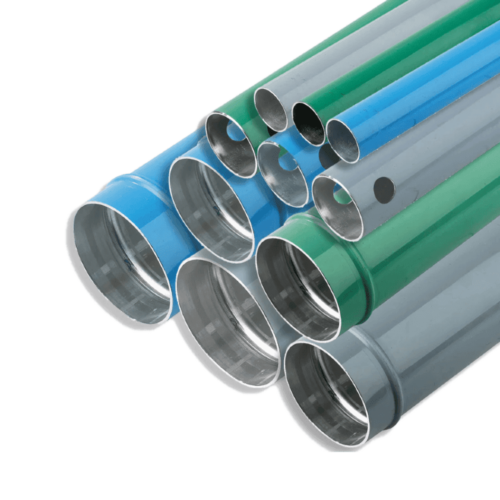 Transair® Rigid Aluminium Piping
Transair® can also be integrated into existing copper and steel compressed air pipe systems without compromising performance, making it perfect for upgrades or expansion projects.
Overview
Transair® aluminium pipe offers the advantages of being lightweight, strong and resistant to corrosion. Every pipe has a QUALICOAT certified coating to protect against long-term exposure to the harshest environments. The aluminium construction and smooth bore construction promotes consistent laminar flow and prevents deterioration and clogging of the pipes over time. Transair pipe is available in blue, grey, and green (special colours are available upon request).
Transair® pipe and fittings are reusable, allowing for quick system modifications. A system can be installed 6 times faster when using Transair® products over copper or steel. When compared to copper and steel, installing Transair® can save you an average of 35% on total installation costs. Parker offers a 10-year warranty on all Transair components.
All Transair® components are 100% recyclable and silicone-free. Available in 1/2″ to 6″, Transair® is an ideal piping solution for any industrial application.
MARKETS
Automotive Assembly
Food & Beverage
Packaging
Industrial Plants
Aerospace
FEATURES AND BENEFITS
Quick Connection Technology
Modular and Reusable
No Corrosion
Full-Bore Design
Lower Installation Costs
Optimum Flow Rate
10-Year warranty
Immediate Pressurisation
Lightweight
APPLICATIONS
Compressed Air
Vacuum
Inert Gas
Speak to us today
We believe that your success is our success. That is why we provide top-notch solutions and support to businesses using our quality products, whether through purchase or hire.