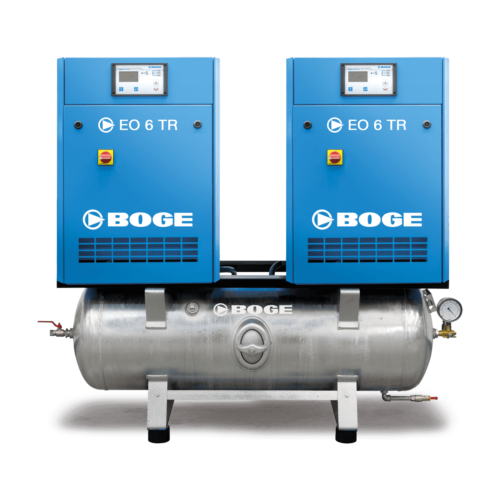 BOGE EO TR 6 Scroll Compressor (Up to 11kW)
Oil-free scroll compressor with a modular design, designed as a duplex system on a receiver.
Overview
Super-compact, quiet and a low vibration level – the BOGE EO series enhances the oil-free segment and literally fills any gap. It is particularly recommended for sensitive applications in which oil-free air and unobtrusive operation are essential. Smart control allows scroll airends to be switched on or off as required. Efficiency is further improved with a two-stage aftercooler. Also as a duplex system, mounted on a receiver.
Advantages
Completely oil-less
Smallest footprint
Very quiet operation
Oil-free compressed air
With receiver
Focus control 2.0
Speak to us today
We believe that your success is our success. That is why we provide top notch solutions and support to businesses using our quality products, whether through purchase or hire.