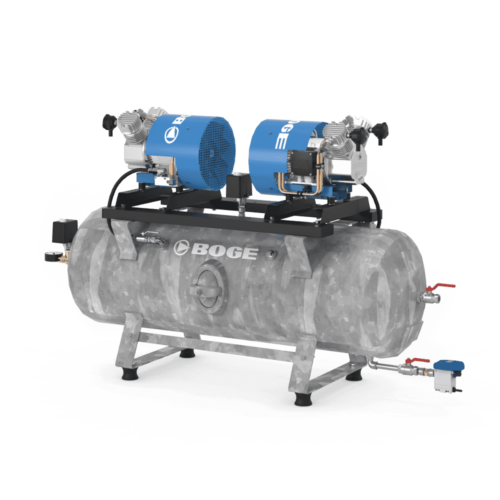 BOGE PO LTR Piston Compressor (Up to 1.5kW)
BOGE Piston Compressor PO LTR up to 1.5 kW is designed for minimal energy consumption. This piston air compressor has a modular design concept that guarantees a wide range of product options.
Overview
DOWNLOAD THE BOGE PISTON COMPRESSOR PO LTR UP TO 1.5 KW PDF
This model of piston air compressors has seen significant improvements in efficiency and free air delivery product development targets including reducing noise, creating a compact design and achieving the easiest possible maintenance.
The modular design concept guarantees a wide range of product options.
The completely oil-free piston compressors of the new BOGE Piston Compressor PO LTR up to 1.5 kW produce high-quality compressed air for even the most sensitive applications.
Particular attention was paid to low-wear operation, while the extremely compact design with the closed hood concept combines operational reliability with environmental friendliness.
The operation is wear-resistant and features an extremely compact design, combining industrial safety and environmental protection.
The Piston Compressor PO LTR up to 1.5 kW meets the requirements of the RoHS Directive (2002/95/EC) – proof of the innovative quality of BOGE.
FEATURES AND BENEFITS
230 V / single-phase model available
Soundproofed construction
Oil-free compressed air
Direct-coupled drive
Designed for 100% duty cycle
Maximum efficiency
Extensively ribbed aluminium cylinder and aluminium cylinder heads in lightweight design
Silenced suction filter
Direct-coupled drive
Effective close-fitting spiral tube cooler
Easy-access central distributor block
Compact crankcase
Hermetically sealed crankshaft bearing
Space-saving V-configuration cylinder
APPLICATIONS
MEDICAL AND PHARMACEUTICAL INDUSTRY
In sensitive areas such as dentist's surgeries and hospitals.
100% oil-free compressed air from BOGE has been in use for many years.
The compact Piston Compressor PO LTR up to 1.5 kW units make for even easier installation.
PAINT AND SPRAY FINISHERS
It's only natural that paint shops are not prepared to make concessions where compressed air is concerned.
The BOGE Piston Compressor PO LTR up to 1.5 kW delivers what it says: There is no chance whatsoever of oil contamination in the compressed air.
FOOD INDUSTRY
Precision-dosed compressed air for bottling beer, for instance, reduces froth to a minimum, and speeds up the bottling process.
WATER TREATMENT
Naturally, only compressed air that is 100% oil-free can be used for treating water.
This is where the BOGE Piston Compressor PO LTR up to 1.5 kW comes into its own – for injecting bubbles of air to promote bacteria growth.
Speak to us today
We believe that your success is our success. That is why we provide top-notch solutions and support to businesses using our quality products, whether through purchase or hire.