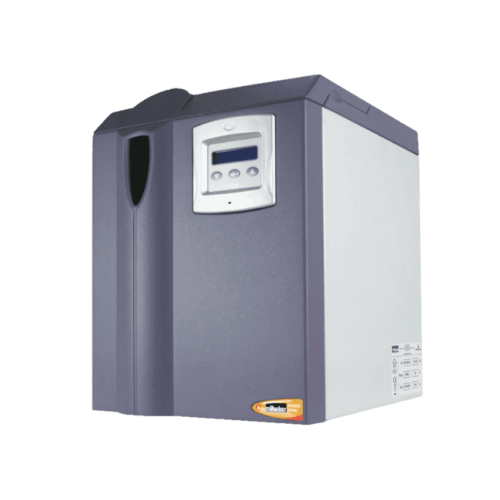 Parker Domnick Hunter 40H-ICP Hydrogen Gas Generator
The Parker Domnick Hunter 40H-ICP hydrogen gas generator, developed in collaboration with major instrument vendors, meets the initial purge and reaction gas requirements of the Collision Reaction Interface, providing simple routine removal of troublesome spectroscopic indifferences.
Overview
Utilising field proven PEM cell technology, hydrogen is produced on demand from deionised water and electricity, at low pressure and with minimal stored volume. Innovative control software allows unrivalled operational safety and reliability.
The 40H-ICP hydrogen generator employs a fully approved low-pressure buffer arrangement, to cater for elevated hydrogen flows required during the purge cycle of ICP-MS Instrumentation.
Hydrogen generators are available with Remote Networking software. RemoteNet allows up to 27 hydrogen generators to be actively controlled from one  central PC, and facilitates true cascading capabilities
FEATURES
Designed specifically for ICP-MS
Simple to install and operate
Compact, reliable with minimal maintenance
Eliminate dangerous hydrogen cylinders from the work place
2-year standard cell warranty
Optional automatic water refill and remote networking capability
Speak to us today
We believe that your success is our success. That is why we provide top-notch solutions and support to businesses using our quality products, whether through purchase or hire.