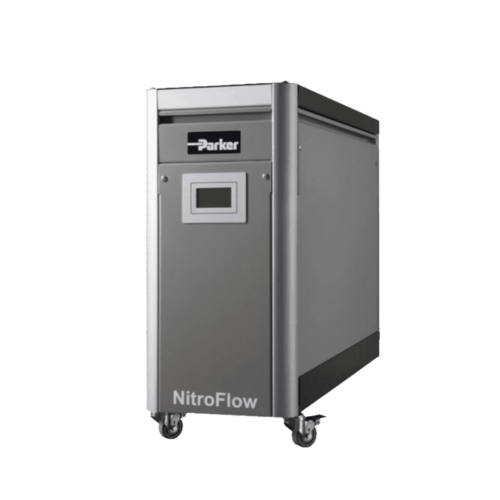 Parker Domnick Hunter NitroFlow® Basic Nitrogen Generator
Parker Domnick Hunter NitroFlow® nitrogen generators consist of hollow-fibre membrane modules arranged in a convenient housing with a control system and integral filtration. The cost-effective, reliable and safe solution for small to medium nitrogen requirements.
Overview
Dried compressed air (+3°C pdp) enters the gas generator inlet port where it passes through 1 micron and 0.1-micron filtration, then through a carbon tower to remove oil odour, vapour and ozone, a dust filter and then into the membrane modules.
The membrane modules are designed to remove unwanted gases such as oxygen and water vapour through the hollow fibre wall and out to the atmosphere, whilst retaining nitrogen as the product gas that is fed through to the application.
BENEFITS
Correct purity always – provides the right purity for the application. This ensures lowest energy consumption and maximum savings on unit gas cost.
Energy-efficient – gas on-demand with automatic stand-by mode (using zero compressed air) ensures lowest operating costs. Multi-bank cascading to reduce energy with varying demand applications – provides flexibility and lowest operating costs.
Compressed air pre-treatment – a dedicated pre-treatment package means the system can operate
from any compressed air source, safely and securely ensuring maximum service life with lowest cost of ownership.
Smaller, more compact and lightweight – modular construction means less than half the size of conventional designs providing lowest cost installation and saving on valuable floor space.
Modular design

100% stand-by at a fraction of the cost.
10 year guarantee on pressure envelope (PSA).
Constant nitrogen quality due to snowstorm filling (PSA).
Easy add on subunits (membrane).
Controller / receptor configuration (membrane).

Easy and flexible installation – fits through a standard doorway (no need for structural work). Minimum footprint.
Reliable and easy to maintain – very few consumable components. In multibank installations, individual modules can be isolated for maintenance without disruption to production – Reducing downtime and providing the lowest cost of ownership.
Industry Compliant Gost-R – PED, CE, UL, CRN, FDA Article 21*, EIGA Food & Pharmaceutical *.
Speak to us today
We believe that your success is our success. That is why we provide top-notch solutions and support to businesses using our quality products, whether through purchase or hire.