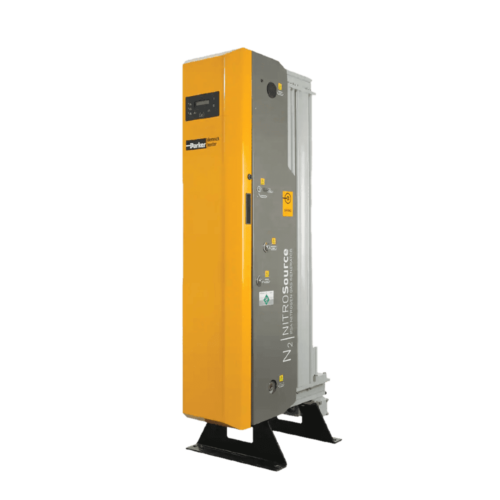 Parker Domnick Hunter NITROSource PSA Nitrogen Gas Generator
Advanced technology nitrogen gas generator for industry-leading performance; a source of increased productivity, sustainability and profitability. NITROSource provides nitrogen gas of 95% to 99.9995% equivalent nitrogen purity.
Overview
The NITROSource nitrogen gas generators unique design and advanced energy-saving technology means less compressed air is needed to generate more nitrogen than any other gas generator currently available. Supported by substantially lower servicing costs, reduced downtime and a longer working life than comparable nitrogen generators, NITROSource offers the most cost-efficient nitrogen supply available; significantly more affordable and safer than traditional delivery methods of supply, such as gas cylinders and mini-bulk storage.
FEATURES
Energy-saving technology – matches compressed air flow to the nitrogen outlet flow. Resulting in reducing compressed air use, which sequentially lowering energy consumption and save operational costs.
Lower cost maintenance, extensive working life – the Carbon Molecular Sieve, the 'engine' of the generator delivers nitrogen more efficiently, leading to a very long working life – and major savings on maintenance.
Availability of five year extended warranty – offering the assurance of no unexpected maintenance costs and maximised factory up-time.*
Industry compliance – food and pharmaceutical safe, in line with European statute (EIGA) and the USA Food & Drugs Administration (FDA Article 21) and Pharmacopeia compliance.
Unique gas quality control system
Remote monitoring – enabling connection to proprietary remote management and the generator control systems to control and track gas parameters from a central location
Easily upgradable supply – simply add extra generators as the application requirement grows.
NITROSource is appropriate for manufacturers and producers in a wide range of industries:
Food production, processing, storage and packaging – snacks, dairy, grated cheese, milk powder coffee, edible oils
Beverage and bottling
Pharmaceuticals – primary and secondary manufacturing, centralised laboratory, inert storage and packaging
Materials processing – laser cutting, heat treatment and composite manufacturing
Electronics
Speak to us today
We believe that your success is our success. That is why we provide top-notch solutions and support to businesses using our quality products, whether through purchase or hire.