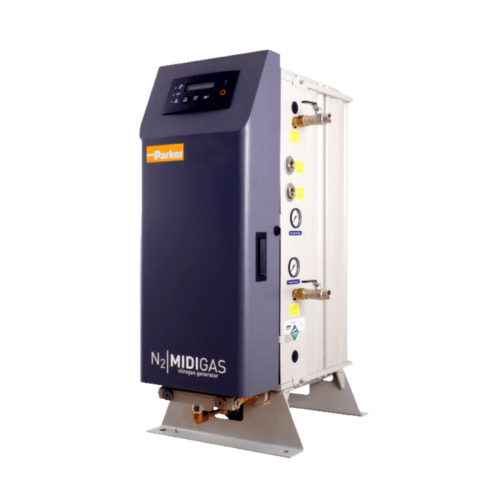 Parker Domnick Hunter MIDIGAS PSA Nitrogen Generator
A robust and reliable design is your guarantee of performance. With the proven benefits of advanced aluminium forming technology, the Parker Domnick Hunter MIDIGAS is a cost-effective, reliable and safe solution for small to medium nitrogen requirements.
Overview
MIDIGAS nitrogen gas generators from Parker produce nitrogen gas from compressed air and offer a cost-effective, reliable and safe alternative to traditional nitrogen gas supplies such as cylinder or liquid options.
Nitrogen is used as a clean, dry, inert gas primarily for removing oxygen from products and/or processes.
MIDIGAS provides an on-demand, continuous source of nitrogen gas which can be used in a wide range of industries such as food, beverage, pharmaceutical, laboratory, chemical, heat treatment, electronics, transportation, oil and gas and laser cutting
BENEFITS
Up to 80% cost savings* – typical capital pay-back is achievable within 12-24 months.
Energy savings – low air consumption provides greater energy efficiency.
Convenient and safe – this easy to use system is simple to install, requires minimal maintenance and eliminates safety hazards associated with traditional gas supplies.
Space-saving design – the compact design means the system demands less floor space. Easily fits through doorways.
Flexible multi-bank option – offers higher flow and system backup.
Reduce carbon footprint – the elimination of cylinder deliveries and transportation means carbon footprint can be reduced.
FEATURES
Can operate from a standard factory compressed air supply
Delivers 5% down to 10 ppm oxygen content, without the need for any additional purification
Available in 7 models offering varying flow rates and purities
Automatic economy modes saves energy
Built-in oxygen analyzer for continuous purity monitoring
Alarm capabilities
User-friendly control interface
Compact design
Modular concept
Complies with FDA requirements
Speak to us today
We believe that your success is our success. That is why we provide top-notch solutions and support to businesses using our quality products, whether through purchase or hire.