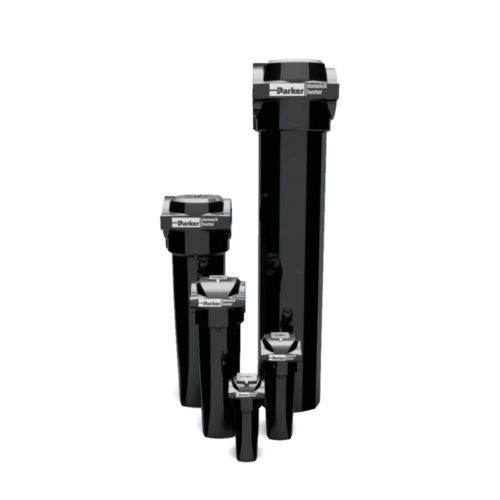 Parker Domnick Hunter Oil-X WS Water Separator
Die-cast aluminium and fabricated carbon steel water separators for the efficient removal of bulk liquid contamination from a compressed air supply, providing flow rates up to 25920 m³/h @ 7 bar g.
Overview
Compressed air purification equipment must deliver uncompromising performance and reliability while providing the right balance of air quality with the lowest cost of operation. Many manufacturers offer products for the filtration and purification of contaminated compressed air; which are often selected only upon their initial purchase cost with little or no regard for the air quality they provide, the cost of operation throughout their life, or indeed their environmental impact. When purchasing purification equipment, delivered air quality, the overall cost of ownership and the equipment's environmental impact must always be considered.
FEATURES AND BENEFITS
Protects coalescing filters from bulk liquid contamination.
Helps provide air quality in accordance with ISO 8573-1:2001 the international standard for compressed air quality.
High liquid removal efficiencies at all flow conditions.
Suitable for all compressed air applications.
Suitable for all compressor types including variable flow.
Low-pressure losses for low operational costs.
Low lifetime costs.
Helps reduce the release of CO2 into the environment.
Lloyds & CRN registered (WS010 – WS055).
Speak to us today
We believe that your success is our success. That is why we provide top-notch solutions and support to businesses using our quality products, whether through purchase or hire.