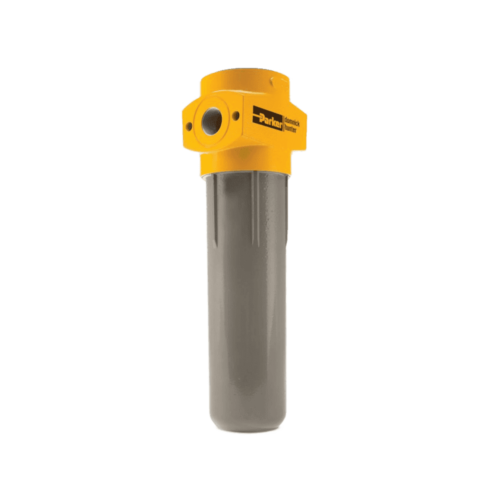 Parker Domnick Hunter Oil-X 50 Intermediate Air Filter
Compressed air filters for applications requiring operating pressures up to 50 bar g (725 psig). OIL-X IP50 are Ideally suited for food / beverage / pharmaceutical / P.E.T applications.
Overview
The removal of impurities within a compressed air system is vitally important in order to prevent contamination of downstream processes equipment and products. Parker Domnick Hunter OIL-X IP50 intermediate pressure filters combine the new energy-efficient OIL-Xplus filter elements with specially designed housings to provide high-efficiency filtration for applications up to 50 bar g (725 psi g).
Available in various filtration grades and connection sizes, they provide a level of protection tailored to your application. Typical Applications: P.E.T. bottling, air blast circuit breakers, shipborne air distribution systems, engine starting and pressure testing of pipelines.
FEATURES
Coalescing filters fully tested in accordance with ISO12500-1.
Performance independently validated by Lloyds Register.
Elimination of oil, water and dirt – Available in six filtration grades.
10 years guarantee on filter housing.
Ease of installation – Compact housing design.
Port options – BSPP / NPT – Weld Flange kits also available.
BENEFITS
Meets or exceeds the requirements for delivered air quality shown in all editions of ISO8573-1, the international standard for compressed air quality.
Ideally suited for Food / Beverage / Pharmaceutical / P.E.T. applications: FDA Title 21 compliance and EC1935 – 2004 Exempt.
Trouble-free, high performance – quality OIL-Xplus element backed with a 1-year performance guarantee.
SIZING AND SELECTION
To ensure quoted air purity specification is met, more than one filtration grade may be required.
Important Note: For quoted air purity performance, compressed air filters must be sized correctly for minimum operating pressure and maximum inlet flow rate using the correction factors found in the Product Information Sheet.
Speak to us today
We believe that your success is our success. That is why we provide top-notch solutions and support to businesses using our quality products, whether through purchase or hire.