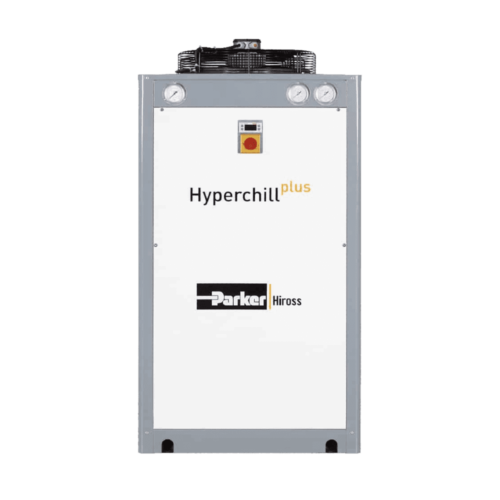 Parker Hiross Hyperchill Plus Oil Chiller
Industrial oil chillers designed to provide precise and accurate temperature control of industrial oils and cutting fluids for a wide variety of industrial applications, with cooling capacities from 1.6kW to 21kW.
Overview
Extremely compact and easy to use, Hyperchill Plus is designed for safe and reliable operation in the most varied working conditions, providing precise and accurate control of the oil/cutting fluid temperature.
The availability of a wide range of accessories and options makes Hyperchill Plus a very flexible solution that fits the needs of a wide variety of industrial applications. With a stainless steel hydraulic circuit, Hyperchill Plus is suitable for cooling industrial oils or cutting liquids. Hyperchill Plus ensures stable working conditions, combined with improved efficiency and productivity of the process. Hyperchill Plus contributes significantly to the reduction of plant downtime and maintenance costs due to inconsistent cooling of industrial oils and cutting liquids. Each individual Hyperchill Plus unit is extensively tested to guarantee efficient operation and reliability in most working conditions.
Speak to us today
We believe that your success is our success. That is why we provide top notch solutions and support to businesses using our quality products, whether through purchase or hire.