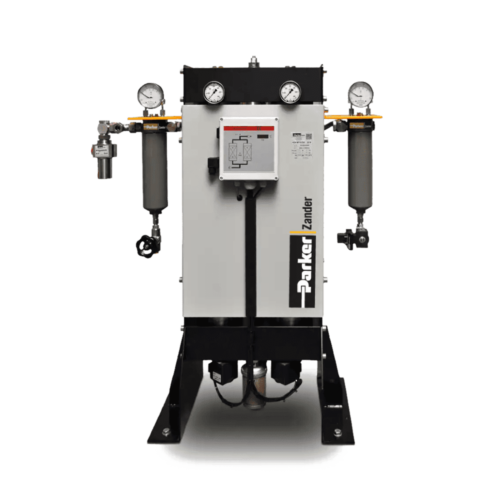 Parker Zander HDK-MT High-Pressure Desiccant Air Dryer
For applications requiring high pressure compressed air or nitrogen gas up to 100 bar with volume flows of up to 650m³/h and pressure dew points down to -40°C.
Overview
The patent-protected HDK-MT concept is unique in its compact design. HDK-MT combines a vibration resistant, torsion rigid dryer unit, made of high precision vessel pipes and valve blocks, with a pre-stressed filling of highly active desiccant beads.
HDK-MT dryers come mounted with GH series filters, incorporating tie-rod fixed filter elements, which provide almost no target for torsional forces and abrasion. This provides a safe, reliable, and robust operation under pressure variations and constant vibration, typical for discontinuous operation in high-pressure ranges.
The choice of corrosion-resistant materials, like the hard-coated aluminium valve blocks, seamless vessels and stainless steel fittings make HDK-MT series dryers ideally suited for harsh environments.
Compact and robust in design HDK-MT dryers are ideally suited for installations in tight spaces, like compressor skids, as well as installations on ships, platforms, and in containers.
FEATURES
Dew-point control as standard
Compact, unique patent-protected design of the pressure envelope
Pulsation and vibration resistant
Corrosion-resistant
Small footprint
Simple servicing
SIZING AND SELECTION
To ensure quoted air purity performance is met, a compressed air dryer must be sized correctly for minimum operating pressure, maximum inlet temperature and maximum inlet flow rate using the correction factors found in the Product Information Sheet.
Speak to us today
We believe that your success is our success. That is why we provide top-notch solutions and support to businesses using our quality products, whether through purchase or hire.