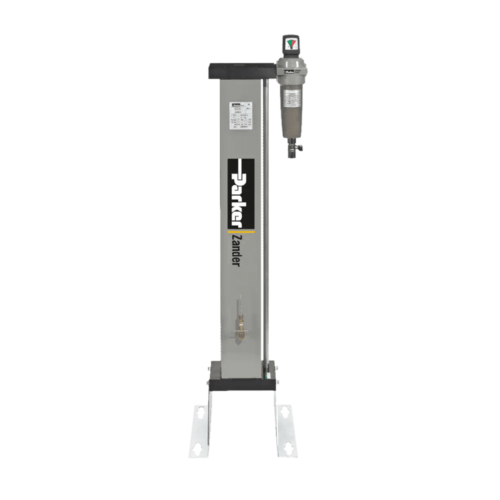 Parker Zander AKM Activated Carbon Adsorber
Compact activated carbon adsorbers for the removal of oil vapour in industrial compressed air treatment applications. Available for volume flows up to 86 m³/h.
Overview
The Parker Zander AKM 1-8 range of activated carbon adsorbers are designed to purify pre-dried industrial compressed air down to the remaining oil content of 0,003 mg/m³. The units are compact and can be installed either free-standing or wall-mounted. They come equipped with integrated high performance after filtration and are capable of volume flows up to 86 m³/h in a system operating at 7 barg (100 psig).
FEATURES
Volume flows up to 86 m³/h @ 7 barg (100 psig)
High performance after filters installed as standard
Start-up devices available as an option
Oil indicator installed
BENEFITS
High-performance oil vapour removal for highest quality air
Compact and space-saving
high-performance after-filter protects downstream equipment
OPERATION
Pre-dried compressed air flows from top to bottom through a single aluminium profile chamber containing activated carbon. Any remaining oil aerosols and oil vapours including odours and tastes are removed by the active surface area of the highly porous activated carbon to produce high quality, clean compressed air. Finally, the treated compressed air exits via the validated after-filter into the downstream compressed air network. Using an oil indicator tube, quality checks can be carried out periodically.
SIZING AND SELECTION
For quoted air purity performance, compressed air filters must be sized correctly for minimum operating pressure and maximum inlet flow rate using the correction factors found in the Product Information Sheet.
Please note: The lifetime of the activated carbon filling can vary and is dependent on the contamination type and quantity and also on the humidity of the compressed air.
Speak to us today
We believe that your success is our success. That is why we provide top-notch solutions and support to businesses using our quality products, whether through purchase or hire.