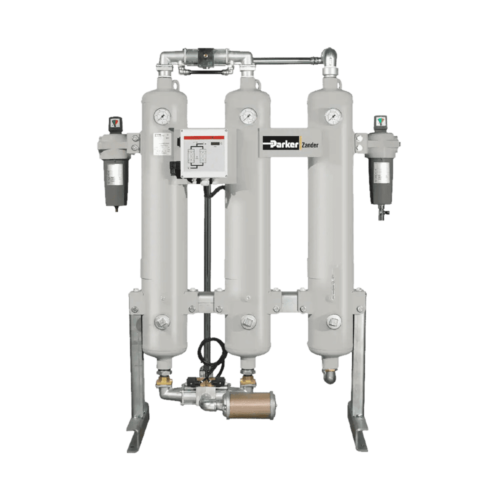 Parker Zander KA-MT Adsorption Desiccant Air Dryer
Large flow heatless compressed air dryers with activated carbon stage, for oil vapor removal, for applications requiring volume flows up to 940m³/h @ 7 barg with a pressure dew point of -40°C (-25°C and -70°C options).
Overview
DOWNLOAD THE PARKER ZANDER KA-MT 1-8 ADSORPTION DESICCANT AIR DRYER PDF
The Parker KA-MT range of heatless adsorption air dryers with integrated activated carbon stage are designed to dry industrial compressed air reliably and efficiently down to a pressure dew point of -70°C with a remaining oil content of 0.003 mg/m³.
The units are compact and are designed to be installed free-standing.
KA-MT series compressed air dryers have an integrated activated carbon stage for the reduction of oil vapours and OIL-X series pre- and post-filtration, they are capable of volume flows up to 940 m³/h in a system operating at 7 barg (100 psig).
FEATURES AND BENEFITS
Pressure dew points down to -70°C
Volume flows up to 940 m³/h @ 7 barg (100 psig)
Pre- and OIL-X post-filters installed as standard
Fully dewpoint dependent control is possible as an option
Remaining oil content of 0.003 mg/m³
Highest quality air
Energy efficient
Dry air means zero corrosion
ADVANTAGES
Parker Zander KA-MT dryers provide a constant outlet dewpoint in accordance with ISO8573-1 classes 1, 2 or 3 for water vapour.
Parker KA-MT dryers provide an outlet dewpoint which inhibits the growth of micro-organisms (allowing their efficient reduction using filtration).
Parker KA-MT dryers use clean, dry purge air for regeneration, eliminating any risk of damage to the adsorption bed or re-contamination of the downstream compressed air.
No heat is used for regeneration; therefore, no insulation is required and loss of dewpoint on column changeover due to inefficient cool down is eliminated
Parker KA-MT dryers include Parker OIL-X High Efficiency Coalescing prefiltration, Oil Vapour
Reduction Stage and General Purpose Dry Particulate post filtration as standard.
Fitted with Parker Multitronic electronic control with the option of dewpoint display and dewpoint switching Energy Saving Technology.
ENERGY SAVINGS
Where an application calls for a unit able to cope with variations in operating pressure and load, the installation of a dew point sensor at the outlet of the dryer is available as an option.
In such an operating mode, the changeover cycle between vessels only takes place when required, and is dependent on the required dew point being achieved.
Only upon reaching this adjustable set dew point, does changeover to the regenerated vessel occur.
This feature enables the drying phase to be lengthened and thus avoids the unnecessary use of purge air for regeneration and consequently provides energy savings.
Compressed air can be selectively dried to meet a dew point of -25°C down to -70°C.
SIZING AND SELECTION
To ensure quoted air purity performance is met, a compressed air dryer must be sized correctly for minimum operating pressure, maximum inlet temperature and maximum inlet flow rate using the correction factors found in the Product Information Sheet.
Speak to us today
We believe that your success is our success. That is why we provide top-notch solutions and support to businesses using our quality products, whether through purchase or hire.